Hotels are known for having the most luxurious towels. The soft,
fluffy white towels are ideal for any hotel. Matching just about any décor,
Hotels4Humanity has the best selection of towels.
We understand
we aren't the only ones who find ourselves asking how hotels keep their towels so soft and fluffy. So, we've done the research to find out why.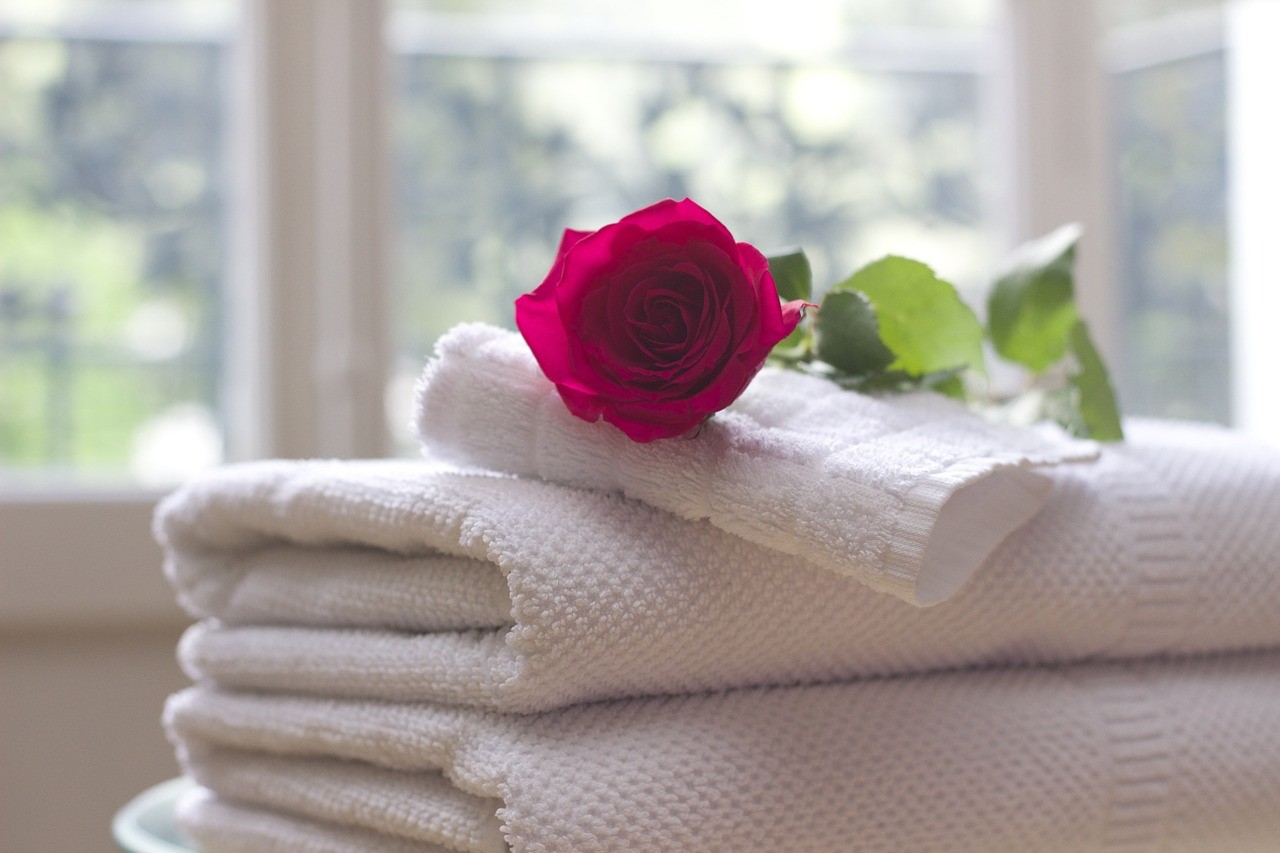 It's safe to
say; the more diligent you are in caring
for your towels, the longer they will stay in
good condition. You'd be surprised that most hotels use regular
detergent, just like you. pH is essential
in keeping a towel in excellent
condition. Regular soap has neutral pH.
Commercial grade detergent is usually harsher and can be devastating to the
quality of towels. High pH detergents are
likely to strip away the soft fibers of a towel
and break towel the fabric faster than
regular soap.
How Can You Keep Your Towels in Good
Condition?

Always wash new towels before using them.

New towels
usually come coated with a finish that gives them an attractive look while
they're in the store. You should always wash them to get that chemical off
since it's probably not very gentle on skin. These chemical finishes also get
in the way of towels being as absorbent as possible.
To find
fresh towels check out
Hotels4Humanity.
Be cautious with color. Grouping colored
towels together before washing them is one of the easiest ways to keep them vibrant. Also, if you're in the USA the quality
of soap is much higher and you can get
away with about half the amount of detergent
recommended on the package.
Another helpful tip we found is to add a cup
of white vinegar directly into the drum of the washing machine. This will help set the color in place while
avoiding runoff. The vinegar also helps
to get rid of any soap residue left behind from previous washes.
You can find
long-lasting colored towels that use 1888 Mills patented FiberTone and
WestPoint's Staybright technology towels
by visiting
Hotels4Humanity.
Consider using baking soda. Using baking soda can help to
eliminate any dirt or excess buildup. It also keeps towels fluffy longer. Add about half a cup of baking soda in addition
to the recommended amount of detergent. Additionally, baking soda can be used
to get rid of musty smells that towels tend to accumulate over time.
Wash your towels regularly. It's important to wash your terry after a few uses. Remember, towels absorb
more than just water. They tend to accumulate dead skin cells and soap scum
faster than you would think. If your worried
about how your towel will hold up, the 1888
Mills enduraweave
and the WestPoint Intelliweave are designed to handle constant washing for many different types
of textiles.
You might
also consider washing colored towels in
color safe bleach and warm water. You can launder
White towels in regular bleach and warm
water. You should always wash coloreds separate from whites, to avoid any
runoff.
Wash towels alone. Your towels
should be washed separately from your clothes. Most terry needs to be laundred in a long, warm cycle because it produces
much lint and may be unnecessary for
clothing. Furthermore, towels can sometimes harbor mold and mildew.
Stay away from fabric softeners. If a soft and fluffy towel is what
you want, you might be tempted to use a fabric softener. However, it's best not
to use fabric softeners with towels.
Fabric softeners can create a waxy buildup over time, and this can damage a
towels absorbency.
Shake them out before drying. You can keep towels fluffy and lint
free by shaking them out before adding them to the dryer. This keeps them absorbent after the wash and
dry cycles. You can also throw a tennis ball into the dryer with your towels.
It may sound strange, but it works.
Make sure they dry completely. Always make sure that your towels are
100% dry before taking them out. Even the slightest dampness can cause mildew
in just a short amount of time. This will
create a musty smell that no one wants. However, over-drying your towels can
break down the fibers over time.
Fold and store your towels neatly. Try folding your towels into thirds to maximize space. You can
also arrange towels on the shelf with the
outer edges facing the front, making it easier
to grab one towel at a time.
Grams per square meter (GSM). Towels have their own rating system known as GSM. The higher the
GSM number, the higher the thicker and denser the towel.
Higher rated GSM towels tend to last a
lot longer and are softer and more absorbent. Towels
with a high GSM are also heavier. Towels of poor stock usually have a GSM of 200
to 300. While the best quality towels have a minimum
of 400 to 600.
The GSM is a
direct measurement of the density of a towel. However, a high GSM number isn't
always best for all guests. Towels with a lower GSM tend to be more
lightweight, thinner, and easier to take
with you. Additionally, high GSM towels
cost more but will last for years.
Hotels that cater to guests with high standards should
be conscious of feeling guest get when they use the hotels they supply. so they will remain in good condition after
several uses, washes, and bleaches.
Types of Fabric
Towels that are usually made for everyday use are usually a midgrade basic cotton. Luxury towels use higher end cotton. Luxury towels have
longer fibers which give them more loops
per square inch making them more absorbent.
Hotels towels made of
Egyptian cotton are known for there heft and high GSM count which helps make them
fluffy. American cotton, Pima, has also
become popular, while lightweight bathrobes are
mainly from turkish cotton. This kind of cotton
is usually less heavy than Egyptian
cotton but is still great at absorbing
moisture and drying quickly.
Absorbency and Dry Time
The
material, manufacturing process, and number
of loops determine the absorbency of a towel. When it comes to quality,
absorbency is a major factor.
Additionally, if you're concerned about dry time, you may want to stick with
thinner towels.
A quality
towel does more than just absorb
moisture. The fiber loops also brush water away from the body, which plays a key role in drying you off fast. An effective
way to determine if a towel will meet performance expectations is to look at
the loops per square inch.
Washing Machine Tips
The first
thing you'll want to do is make sure your washing machine is in decent shape; this can affect the overall process.
Be aware of load size. You never want to over or under fill your washing machine. Overfilled machines don't disperse the
detergent evenly and there is not enough space for the mechanical action to do
its job properly. An underfilled washing
machine provides more mechanical action than needed and this will cause fibers
to break down faster than they would as part of an average size load. Try to
aim for a capacity of around 80% to help maximize the life of your towels.
Pay attention to the settings. Always make sure to keep an eye on
your washing machine settings. They are key to
protecting your towels against wear and maintaining a quality level of
cleanliness. Try to select a setting based on the condition of the load.
Monitor your temperatures. Wash towels in warm water, meaning
not too hot and not too cold. Freezing water doesn't kill all the bacteria a
towel picks up. Water that is too hot will
quickly damage a towel.
Tips for Purchasing Towels
Large,
fluffy white towels are popular among hotels. The high-quality white towels give a clean, spa-like feel to any
bathroom. Towels come in just about every color, but you may want to stick with
white. This way, you will be able to bleach away any stains and they will also match just about any décor.
If colored
towels are what you're looking for
Hotels4Humanity
has everything you need.
Need Towels? We've Got You Covered
If you own
or operate a hotel, you'll be impressed with our collection of luxury towels.
You won't find better quality towels at a better price anywhere else. Don't
believe us? Take a look for yourself by visiting
Hotels4Humanity.